Github offers free hosting of both the blog deployment and source. You're looking at the deployment right now. You can find the source here at my git repo justin808.github.io. I doubt you could beat the price, performance, and convenience. You can look inside of this repo, clone it, etc. and you have everything that it took to make this blog.
I originally was quite confused by the concept of using two separate git branches to make up what gets deployed on the live website versus the git repository of my articles. Plus, there's the issue of Octopress git repository that you clone when starting out. Eventually, I figured out that the two branches simply contain different files, with one containing the original Octopress files. Here's a few screen grabs that might clarify the situation for you.
Don't forget that you never push to the master branch, but rather the rake deploy task does it for you. Instead, you run git push origin source to push the content of your blog to github.
The octopress/public directory corresponds to what you'll find on the github site for your deployment (master branch).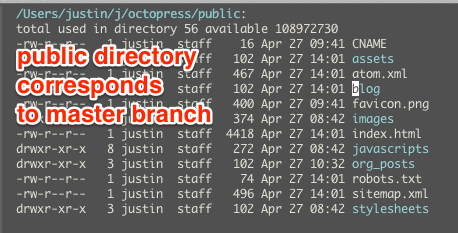 The octopress/.gitignore file contains entries like public, which essentially keeps the rake generate files out of the source branch.
Here's the github master branch right after creation. Note the correspondence with public. This is what gets deployed as your blog.
Here's the github source branch. This contains the octopress environment, as well as your customizations and blog posts.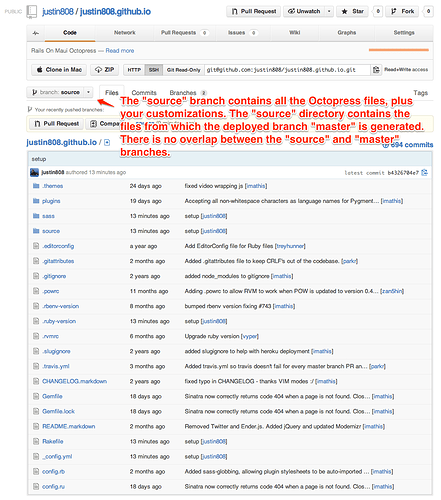 ---
This is a companion discussion topic for the original entry at
http://www.railsonmaui.com//blog/2013/04/27/octopress-setup-with-github-and-org-mode/